​​I finished reading the book Body Facts several days ago. And yet, my brain still has not accurately processed the many feelings provoked by each poem. My imagination took a road trip; I found myself wandering in a yellow bus through Korea, Ohio, and Kim's body. Felt her ailments, visited her memories, and celebrated family traditions.
Although some people say that we are from where we were born, I firmly believe that we are a product of each place we come across and experience, perhaps mixed with the essence of those who came before us, and not of the place itself. A gradual process or unconscious assimilation that results in each organism, reproducing itself from generation to generation until it reaches us, as by osmosis. 
Put simply, Body Facts, that's it! Nostalgia and desires to belong and understand everything, yet not knowing how to explain what is going on in your mind. Joey takes us to her roots, fills us with melancholy, and makes us question our values and social standards, inviting us to visit ours, however far they may or may not be from hers. This poetry book is full of human experiences. Lyrics that connect us with her as we go through each part of her not-so-symmetrical history, citing migratory experiences, oppression, stereotypes, and ignorance in her own story. 
While reading this book, I couldn't help but pause for several minutes at a particular poem, "Currency." It begins with a captivating line; "How do you harvest a language that doesn't bear fruit?" As I share this, I feel exactly what I experienced the first time I read it. Something so striking and powerful, that there are no words to explain it. Only Kim and her delicacy in writing can lead us to this enigma, questioning the existence of everything we've blocked in our minds, deciding not to face it. It motivates one to reflect that the more we move away from our essence, what we are,  what we were, and what remains in us, we will become more broken and miss the journey that is coded in our bodies, and that according to Kim is a fact.
____________________________________________________________________________________________________________________________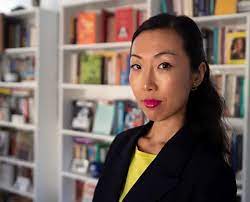 Joey S. Kim (she/her) is a Pushcart-nominated poet, scholar, and Assistant Professor of English literature. Her debut chapbook of poems, Body Facts, was released by Diode Editions on June 15, 2021. She has work in the LA Review of Books, Shondaland, Pleiades: Literature in Context, and elsewhere. Her first monograph, Romanticism and the Poetics of Orientation, is under advance contract with SUNY Press. You can find her on Twitter @joeykim or her website: www.joeyskim.com
_________________________________________________________________________________